Best places for Breakfasts and Brunches In London
I'm sure that you are tired of cereals and milk and you want more sophisticated things for your breakfast. So we decided to write about the best breakfasts and brunches in London. Now, you have no excuse to go work without a good and healthy breakfast!
Here's our selection of Best Places for Breakfasts Brunches in London:
Albion Neo Bankside
"We have a take-away coffee counter and offer an extensive selection of breakfast pastries, buns and bakery goods. We also have a small bar and a food market." With breakfast rolls and the British recipes and ingredients they make a mix of flavours you can't forget. Otherwise, you can enjoy an afternoon tea or a glass of good wine with your colleagues after work
OPEN AT 8AM TO 9PM AND COST AROUND £45 FOR TWO WITH DRINKS
See Also: Taylor Howes – One Kensington Gardens
202 Café
"It's hard to imagine a prettier – or more typical – Notting Hill hangoutthan this elegant café in an expensive clothing boutique" Frequented by some of the best celebrities and rich ladies in London who living in Notting Hills, 202 Café is a famous breakfast restaurant inspired byvintage and monochromatic fashions, with a touch of French food – like French toast with maple syrup and bacon. This is the perfect place to beat the tourist trap of Portobello and to grab a yummy brunch!
OPEN AT 9AM TO 10PM AND COST £24 (BREAKFAST FOR TWO
Balthazar
" The restaurant offers all-day brasserie dining and is open for breakfast, lunch, afternoon tea and dinner, as well as an amazing weekend brunch. The French inspired menu…"
Inspired in Balthazar in New York, the London Balthazar Restaurant serves homemade artisan breads, pastries, salads and sandwiches and give to the client the opportunity to have delivered in their home throughout the day, besides the normal take away.
OPEN AT 8.00 TO 10.00 AND COST £13-£37
Bull & Last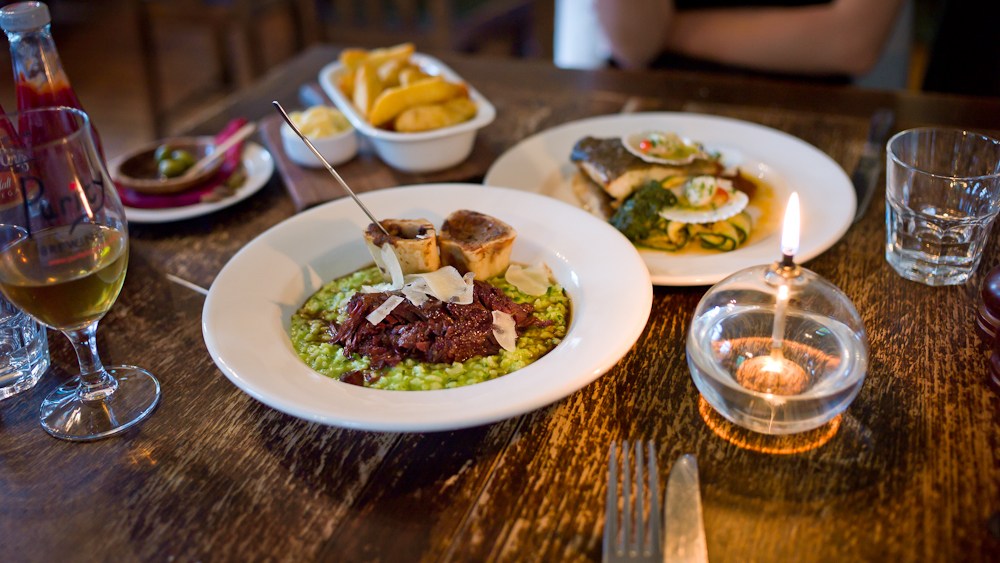 "… provide outstanding seasonal food and great service while retaining a traditional pub atmosphere. The downstairs bar area is alaid back rustic space that welcomes diners and drinkers alike" With an amazing reputation for its food, heavy wooden furniture and velvet drapes give a perfect place to spend time.
OPEN AT MIDDAY TO 10.30PM AND COST £14-£34
See Also:  Top 4 Interior Projects by John Minshaw
Breads Etcetera
"South London's finest organic sourdough bakery and restaurant. Come and join us for brunch or dinner…" With a great brunch location with an amazing selection of Artisan breads for toasting, Breads Etcetera made amazing breakfasts with huge omelette and this DIY option costs only £6.50.
OPEN AT 7.30AM TO 11.45PM AND COST £5-£9.25
Do you like our articles about best interior designers and their projects?
Follow us and stay up to date with our latest posts: Facebook, Twitter, Pinterest and Google +.
Share with us your opinion and stay tuned for more Décor and Style!"