Décor and Style will present to you the most incredible outdoor ice rings in London, so if you are in town, put on your jacket and winter hat, wrap up warm and get your skates on! Sure, you can go for a indoors ice rink, but don't forget that ice skating outdoors provides a winter wonderland you can't get from indoor rinks!
Ice-skating is the quintessential winter pastime, so if you want a romantic night out, or just some great family fun, these ice rinks are just perfect! Their iconic locations include the historic Hampton Court Palace, the stunning surrounds of Somerset House and top shopping destinations such as Westfield London. And let's not forget the beautiful Christmas lights that you can enjoy seeing through the city while skating!
Skate at Somerset House Ice Rink (from 18 November 2015 to 3 January 2016)
Enjoy memorable winter experiences on and off the ice. By day, skate in the splendour of the stunning Somerset House courtyard, or join us after dark, when the rink hosts some of the best international clubs and festivals at exclusive Club Nights. Après-skate, treat yourself to a cocktail, indulgent Welsh Rarebit or hot chocolate from Fortnum's Lodge or the Skate Lounge.
Make your visit extra special with one of our Skate Extras including Champagne & Chocolate Truffles, Wine & Fondue for Two, or Champagne & Smoked Salmon Blini, all served in Fortnum's Lodge on-site. Or go further afield to dine in style at Fortnum & Mason's Piccadilly store or enjoy a luxury stay at The Savoy. Everyone can brush up their skills at Skate School and young children can take their first steps on the ice with Polar Cub Club.
The West Wing will again be transformed into The Christmas Arcade, a pop-up version of the classic Fortnum & Mason Piccadilly store, open daily throughout the season until 3 January. Get festive at Tuesday Treats when skaters and spectators can enjoy seasonal food, drink and music plus late-night shopping experiences in the arcade.
Winterville at Victoria Park 2015 (from 26 November 2015 to 23 December 2015)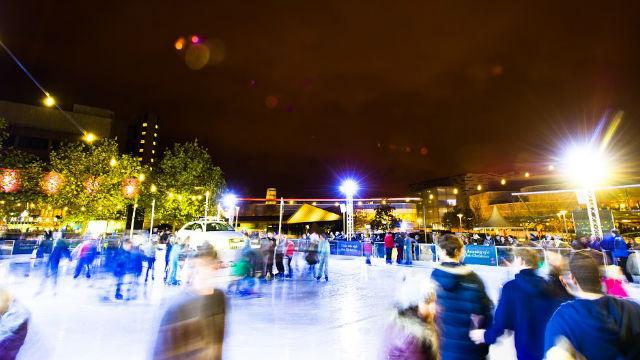 Victoria Park is host to this 600-square-metre outdoor rink. Sessions include skate hire and allow you 45 minutes on the ice, and spectators can be wowed by your slippery skills (or point and laugh) for free.
See Also: Top 4 Interior Projects by John Minshaw
Natural History Museum Ice Rink (from 29 October 2015 to 3 January 2016)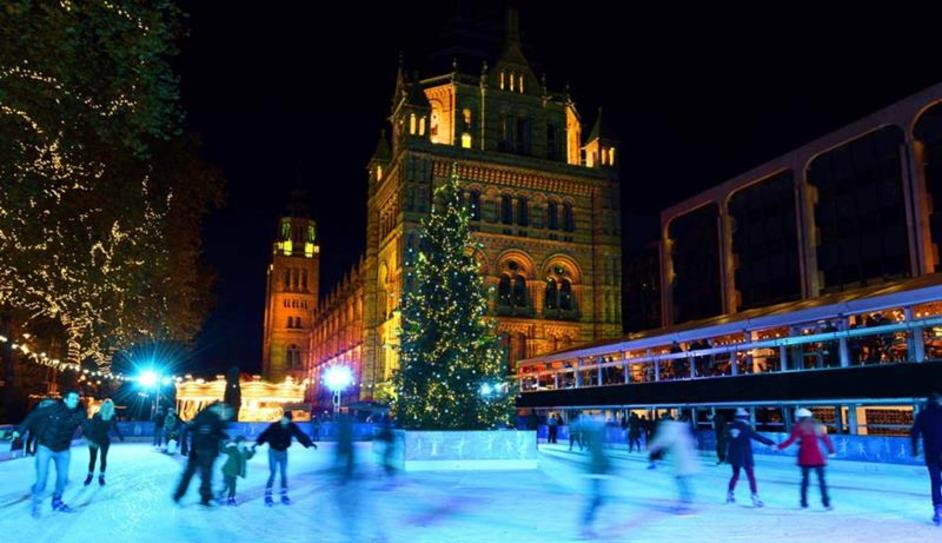 Set against the backdrop of Hintze Hall, the Ice Rink is one of the most magical places to be this winter.
Experience the thrill of skating surrounded by fairy lights nestled in frost-covered trees, with the smell of mulled wine and toasted marshmallows in the air.
Whether you can dance on ice like Torvill and Dean, or your skating moves are more akin to Bambi, a visit to the Museum's Ice Rink is a must this festive season.
Enjoy the sounds of unsigned London musicians on alternate Thursdays from 5 November and sample tasty treats and hot drinks from the Café Bar.
Eyeskate at The London Eye (from 14 November 2015 to 3 January 2016)
Eyeskate returns bigger than ever before, giving you more space to soar across the ice. Beneath the beautiful twinkling haze of the London Eye lights, Eyeskate welcomes everyone from beginner Bambi's to perfect professionals. Combine a spin on our Eyeskate ice rink with the festive views of South Bank from 135m above the city on the London Eye.
Tower of London Ice Rink (from 20 November 2015 to 3 January 2016)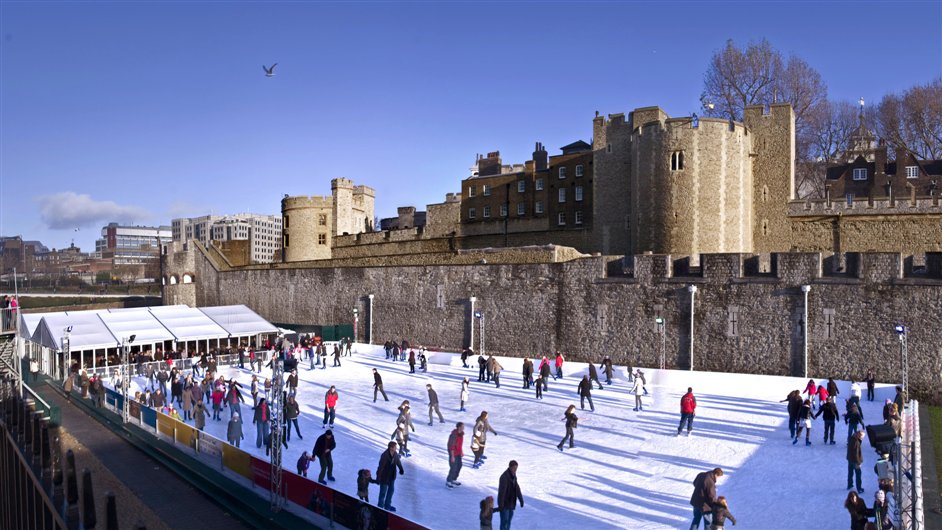 Located in the dry moat, the Tower of London ice rink offers a grand historical setting for seasonal skating sessions, along with views of London's ancient fortress.
As with fellow Historic Royal Palace Hampton Court, sessions last an hour and wheelchairs are welcome on the ice except during the last session of the day.
Hampton Court Palace Ice Rink (from 20 November 2015 to 3 January 2016)
The outdoor ice rink at Hampton Court Palace offers spectacular views of the red brick Tudor front of King Henry VIII's magnificent palace, on the banks of the historic river Thames.
Hampton Court Palace is 500 years old this year! Come and celebrate 500 years of drama at the palace by exploring Henry VIII's apartments and immerse yourself in the sights, sounds, and even smells of the Georgian court in the magnificent Queen's State Apartments.
The Ice Bar & Café provides a welcome place to warm up after your skate, serving a selection of winter drinks and festive snacks.
Broadgate Ice Rink (from 16 November 2015 to 25 February 2016)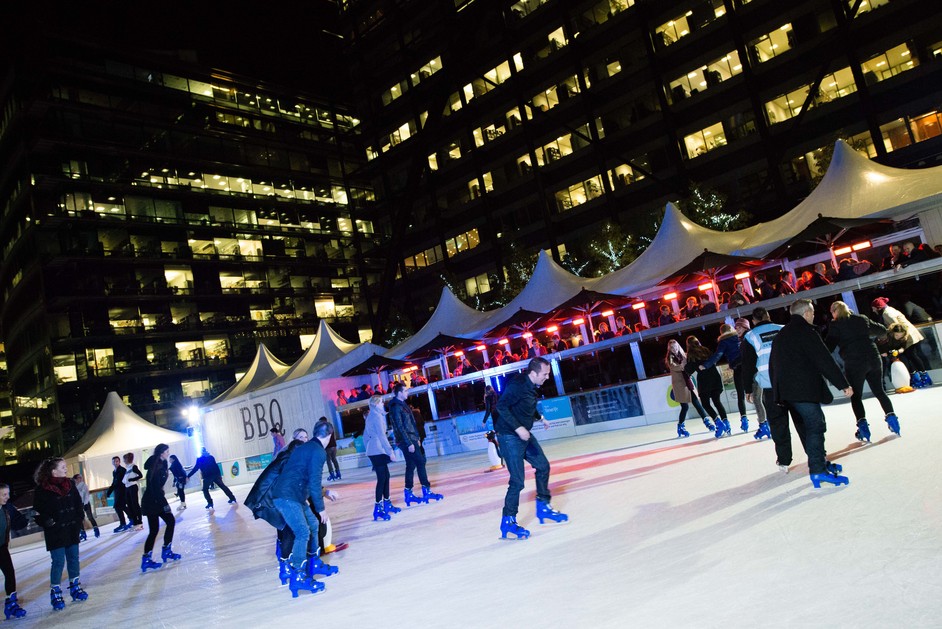 Perfect for skaters of all levels and ages, you can skate from morning to night, 10am-10pm from 16th November 2015 to 25th February 2016.
Located in Exchange Square (EC2A 2BQ), just a two-minute walk from Liverpool Street Station and a stone's throw from Spitalfields Market, Broadgate Ice Rink is surrounded by restaurants, cafes and shops. Nearby Broadgate Circle will be transformed into a sparkling winter terrace too, providing all the essential ingredients for a great day out, relaxing lunch break or enjoyable evening.
Nestled alongside the rink this year, new pop-up Alpine bar, The Lodge, is the best place to watch all the action on the ice. Enjoy a post-skate 'Hot Choctail' and indulgent cheese or chocolate fondue from the heated terrace or take shelter in the cosy cabin.
See Also: Best Interior Designers from UK: Wimberly Interiors
Winter Wonderland in Hyde Park (from 20 November 2015 to 3 January 2016)
Visit Winter Wonderland in Hyde Park 2015 for your fastest fix of the Christmas spirit in London. Indulge in the annual gathering of winter markets, festive fairground rides, ice skating, grottos and glühwein galore. We've gathered up Winter Wonderland highlights from previous years and we'll update you with all the practical information you need to plan your visit to Hyde Park and fast track celebrating Christmas the London way.
Experience the essence of Winter Wonderland as you don your skates and glide around the spectacular, glittering ice rink. Set around the Victorian bandstand and illuminated with over 100,000 lights, the Ice Rink provides a beautiful setting for ice skating.
Ice Skating in Wembley Park (from 20 November 2015 to 3 January 2016)
Enjoy spectacular ice skating rink next to the iconic Wembley Stadium and London Designer Outlet. (Wembley Park Boulevard, Wembley, HA9 0QL). The outdoor sparkling ice rink is open to everyone, from beginners to experts-come and try an exciting traditional winter experience at Wembley Park this year.
It's easy to find it, there's plenty of parking and lots to do whether you are visiting the Stadium, or the SSE Arena for events or shopping at London Designer Outlet. Come and skate, shop, eat, watch a movie or stroll through the traditional Christmas market.
Ice Rink Canary Wharf (from 31 October 2015 to 26 February 2016)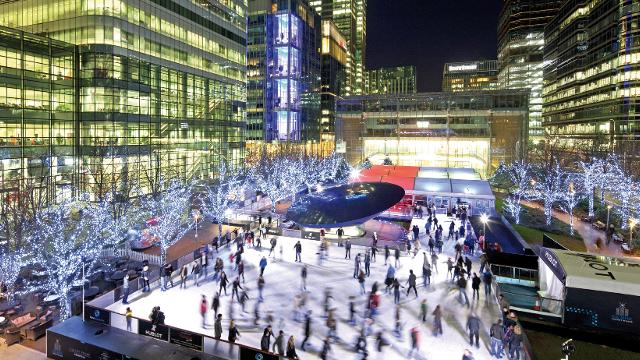 Located in the heart of Canary Wharf, the ice rink feature's London's only skate path, guiding skaters along a glittering trail of fairy-lit trees beneath Canary Wharf's soaring towers. For those less stable on the ice, the venue has a large heated outfdoor viewing terrace from which to admire the icy action. The venue also has onsite toilets and is fully accessible.
Our onsite restaurant and bar, The Tasting Room, offers you the best of artisan tasting and sharing menus, with charcuterie boards, deli style sandwiches and cheese fondue, acommpanied by your favourite winter cocktails, new and old world wines as well as the finest draught and craft beers, ale and stout. the flexible dining space caters for groups of all sizes, from a family of four to private hire and corporate events of more than 200 people.
Do you like our articles about best interior designers and their projects?
Follow us and stay up to date with our latest posts: Facebook, Twitter, Pinterest and Google +.
Share with us your opinion and stay tuned for more Décor and Style!"